Andrea Jensen, CHES, AE-C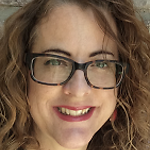 Andrea M. Jensen is a lifelong environmental allergy sufferer. As an adult, she discovered she was allergic to shellfish and finned fish and always carries Epinephrine Autoinjectors. Despite precautions, she has had multiple allergic reactions due to cross-contact by the kitchen staff at various restaurants.
Her husband and three adult children are also lifelong allergy sufferers. To keep the family well supplied, Andrea buys allergy nose sprays and allergy medicine in bulk from warehouse stores! Each of her children has completed 5 years of allergy shots but still battles multiple allergies. One of her children also has food allergies (tree nuts). He has also had multiple allergic reactions due to cross-contact from restaurants.
Andrea works in public health and is a Nationally Certified Health Education Specialist (CHES), and a Certified Asthma Educator (AE-C) She coordinates an Asthma Home Visit Program and helps families learn more about allergies and asthma. Andrea is involved in many allergy & asthma education foundations in her home state and nationwide.
Andrea loves Jane Austen movies, chocolate, and traveling (although not necessarily in that order). Allergies & asthma have become her passion, and now helping others is her career.
Click here to read all of Andrea's articles on Allergies.net.