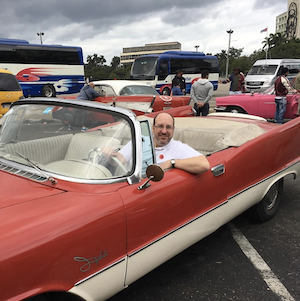 Bob McEachern and his wife have been caregivers to a son with food allergies (milk, eggs, peanuts, and tree nuts). Now that their son is an adult, they share their experience of helping a child learn to live with the physical, social, and emotional challenges that food allergies bring.
Bob McEachern was diagnosed with follicular lymphoma in 2008. After a summer of unshakeable bronchitis that turned to pneumonia, a chest scan showed swollen lymph nodes that were given a 10% chance of being cancer. A few months later, a swollen node in his hip was biopsied, and that 10% chance turned into 100%. Follicular lymphoma, a subtype of non-Hodgkin Lymphoma, is indolent (slow-growing) and incurable (but treatable). Like many FL patients, Bob chose to "watch and wait" after diagnosis, holding off treatment for two years until the swollen hip nodes resulted in lymphedema in his leg. Two years to the day of his diagnosis, he had the first of six rounds of a monoclonal antibody.
A few days after his diagnosis, Bob started a blog, Lympho Bob, to keep family and friends informed about his disease. Over time, Bob used the blog to write about current news about FL, like new treatment trial results. Soon, other FL patients found the blog, which now has readers from over 70 different countries.
Bob teaches writing, grows award-winning tomatoes, plays guitar badly, enjoys the occasional hot dog, and makes sure to hug his wife and three kids as often as he can.
Click here to read all of Bob's articles on Allergies.net.
Click here to read all of Bob's articles on Blood-Cancer.com.